BRIEF STRATEGIC THERAPY FOR
OBSESSIVE-COMPULSIVE DISORDERS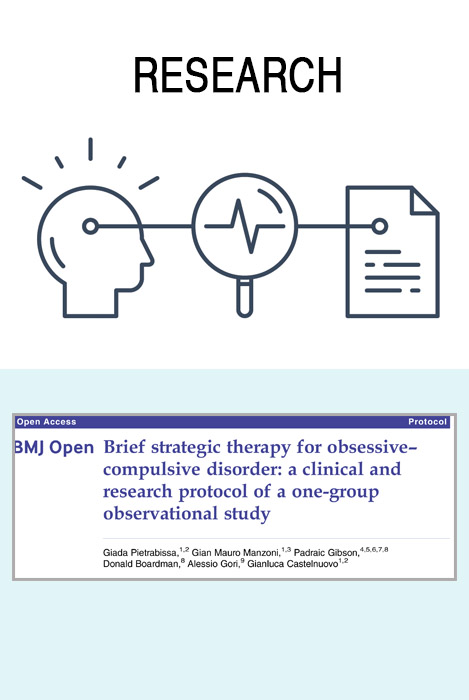 Author:
Giada Pietrabissa et al.
Year:
2016
Publisher:
BMJ Publishing Group Ltd.
Necklace:
Brief strategic therapy for obsessive – compulsive disorder: a clinical and research protocol of a one-group observational study
Abstract
Introduction Obsessive – compulsive disorder (OCD) is a disabling psychopathology. The mainstay of treatment includes cognitive – behavioral therapy (CBT) and medication management. However, individual suffering, functional impairments as well as the direct and indirect costs associated with the disease remain substantial. New treatment programs are necessary and the brief strategic therapy (BST) has recently shown encouraging results in clinical practice but no quantitative study has as yet been conducted.
Methods and analysis The clinical effectiveness of the OCD-specific BST protocol will be evaluated in a one-group observational study. Participants will be sequentially recruited from a state community psychotherapy clinic in Dublin, Ireland. Outcome measures will be the Yale-Brown Obsessive Compulsive Scale (Y-BOCS) and the Beck Depression Inventory-II (BDI-II). Data will be collected at baseline, at treatment termination and at 3 month follow-up. The statistical significance of the post-treatment effect will be assessed by the paired-sample Student t test, while clinical significance will be evaluated by means of the equivalence testing method, which will be also used to assess the maintenance of effect at follow-up .
Ethics / dissemination The present study is approved by the Hesed House Ethics Board in Dublin. Findings will enhance the evidence-based knowledge about the clinical effectiveness of BST in treating OCD symptoms, prior to assessing its efficacy in a randomized and controlled clinical trial, and will be disseminated through publication in peer-reviewed journals and conference presentations.
Read the full article: http://bit.ly/2QOeaGJ