CĂLĂRIND PROPRIUL TIGRU. STRATAGEMELE FOLOSITE
ÎN ARTELE MARŢIALE SAU CUM SĂ REZOLVĂM
DIFICILE PROBLEM RECURGÂND THE SOLUŢII SIMPLE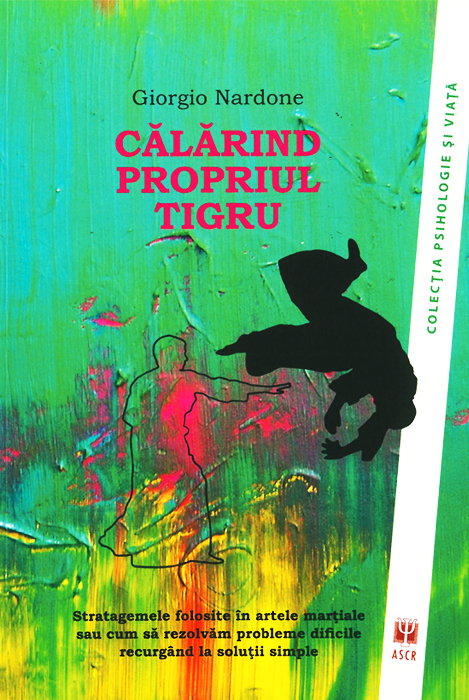 Author:
Giorgio Nardone
Year:
2014
Publisher:
Ascr
Necklace:
Psihologie si viaţă
"Călărind propriul tigru" este or expresie metaphorică: a reuşi să realizezi ceva aparent imposibil. În realitate, cum am putea convinge un tigru să se lase călărit? Acest deziderat pare extrem de dificil, dacă nu de-a dreptul utopic. Totuşi, dacă ne eliberăm din captivitatea logicii obişnuite, din cea a raţionalităţii şi a aşa-numitului "simț comun", a fi călare pe un tigru devine nu doar posibil, ci şi realizabil. Această carte încearcă să explice arta rezolvării situațiilor personal problematice prin utilizarea de soluții aparent simple. Această artă nu presupune recurgerea la "adevărul" liniştitor, care rezidă în cunoștințele certain cu privire la realitatea care ne înconjoară şi la relaţia pe care o avem cu aceasta, ci mai degrabă la utilizarea stratagemelor careză nesocotescional.
Istoria omenirii abundă de exemple de stratageme capabile să răstoarne soarta unei situaţii: este suficient să ne gândim la Ulise şi calul troian construit la îndemnul său, care reprezintă esenţa mitizată a inteligenţei strategice.
Nădăjduiesc că you putea ghida cititorul în această realitate aparent magică, unde "Tot secretul constă în faptul că nu există secrete", ci doar subtilități. Potrivit unui aphorism to him Aldous Huxley, "Realitatea nu este ceea ce ni se întâmplă, ci ceea ce facem us cu ce ni se întâmplă".