INTERNATIONAL PSYCHOTHERAPY DICTIONARY.
A COMPLETE COLLECTION OF TERMS, THEMES, ISSUES AND TECHNIQUES OF PSYCHOTHERAPY CARE
A complete collection of terms, themes, problems and techniques of psychotherapy treatment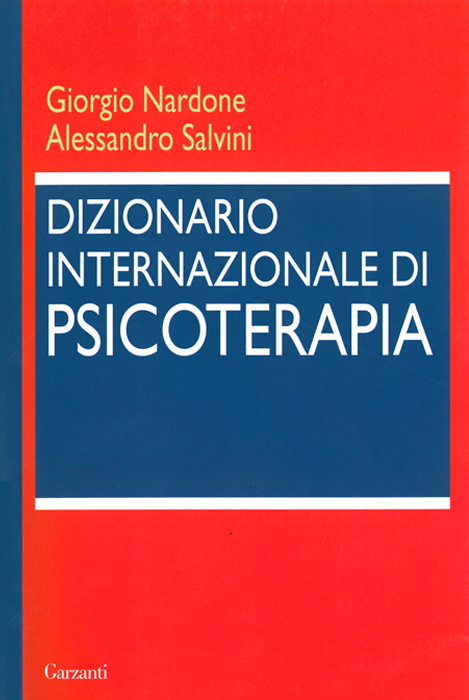 Author:
Giorgio Nardone, Alessandro Salvini
Year:
2013
Publisher:
Garzanti
Necklace:
Nothing exists that cannot be cured with words. "
(Antiphon)
More than 900 items and complete insights into the paradigms and key concepts of psychotherapy, with the collaboration of an international team of over 360 scholars.
This International Dictionary of Psychotherapy is the first attempt to systematize the broad subject of psychological problems. The result of the work of a team of over 360 Italian and foreign experts, the work brings together the different schools of psychology and psychotherapy, tracing their historical profile and underlining the strengths of the various therapies.
Equipped with an in-depth bibliographic apparatus, the Dictionary also organizes the various positions of the most important psychotherapeutic areas and carefully delves into the key words distinguishing the multiple terminological meanings. The items, collected in alphabetical order, are preceded by the presentation of the eight paradigms in which psychotherapy is declined today: Cognitivist, Behavioral, Eclectic, Expressive-bodily, Interational-strategic, Psychodynamic, Systemic-relational, Humanistic-existential.
By aggregating the various models according to the paradigm from which they derive, the Dictionary exposes the current geography of psychotherapeutic practices in an orderly and articulated manner, highlighting the disciplinary uniqueness but at the same time revealing the differences at both theoretical and applicative level of the numerous approaches studied.
Due to its richness and completeness, this unique work of its kind in Europe is proposed as an indispensable, exhaustive and detailed study and in-depth tool for the expert reader and an excellent reference text for those who want to approach for the first time and with a sure guide to the complex world of psychotherapy.
GEORGE NARDONE
Giorgio Nardone, psychotherapist psychologist, co-founder with Paul Watzlawick of the Strategic Therapy Center of Arezzo, directs the Post-graduate School of Brief Strategic Psychotherapy in Arezzo. He is considered the most prominent exponent among the researchers of the Palo Alto School, but, above all, he is known for having formalized specific treatment protocols for the most important psychopathologies and for having devised innovative psychotherapy techniques. Author of works that have now become classics in the sector and published in over ten languages, he regularly gives lectures, conferences and workshops all over the world.
ALESSANDRO SALVINI
Alessandro Salvini is full professor of Psychopathology and Clinical Psychology at the University of Padua. He is the author of research and books on the psychology of deviant organization, personality psychopathology and dissociative states of identity. He also dealt with methodological problems related to clinical and psycho-social research. He was scientific director of the research projects on AIDS and psychopathological phenomena, funded by the Istituto Superiore di Sanità and the CNR.
The two curators, flanked by international scientific consultants (Mony Elkaïm, Camillo Loriedo, Pio E. Ricci Bitti, John Sommers-Flanagan, Jeffrey H. Zeig), coordinated a team of over 360 collaborators.