EL DISCUBRIMIENTO Y LOS HALLAZGOS DE LA PSICOLOGÍA.
A VIAJE IN TRAVÉS DE LA MENTE HUMANA
Estos tres viajeros nos hacen recorrer los descubrimientos de la psychology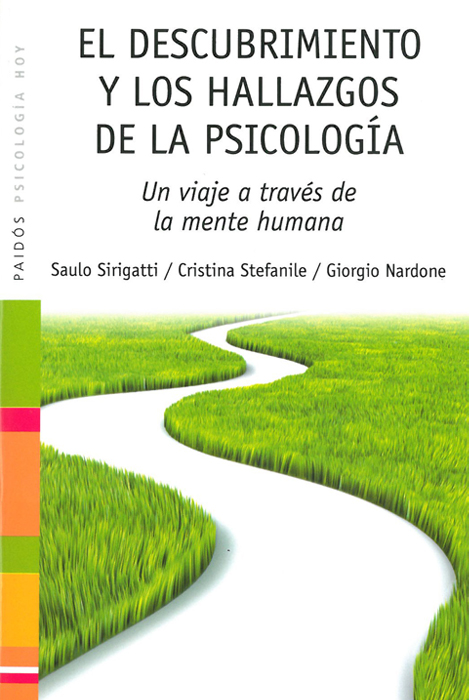 Author:
Saulo Sirigatti, Cristina Stefanile, Giorgio Nardone
Year:
2011
Publisher:
Paidos
Necklace:
Thought
This book is a especie de Amarcord de la psychology; a Proustian ejercicio de memoria or bien, si lo preferimos, a "novela de la psychology" en el que tres profesionales de la discipline, que representan tres generaciones de therapeutas, nos invitan a viaje que transcurre desde el nacimiento de la psychology hasta on consolidación como ciencia.
Estos tres viajeros nos hacen recorrer los descubrimientos y los avances más significativos de la discipline:
desde la percepción hasta las neurociencias; de las emociones a la dynámica de las masas; desde los aspectos vinculados a la comunicación hasta las trampas que, paradójicamente, la propia psychology if it has tended to sí misma. Strictly, but también with the dosis justa de ligereza, los autores nos hacen participar en "the continuous descubrimiento of a fascinating world of conocer y sentir".
Giorgio Nardone (Arezzo, 1958), psychologo, es el fundador, jointly with Paul Watzlawick, of the Centro de Terapia Estratégica (CTS) of Arezzo, whence he desarrolla su actividad como psychologo y psychotherapist. He is the director of the School of Specialization in Short-term Psychotherapy and of the School of Communication and Resolución Estratégica of Problems in Arezzo.
Considerado el representante de mayor relevancia between the investigadores de la Escuela de Palo Alto, is recognized internacionally as one of the therapeutics más creativos y, al mismo tiempo, rigurosos, gracias a numerosos and innovadores trabajos that han lead to a new modelo evolucionado de Terapia Short.
Italian

THE DISCOVERIES AND INVENTIONS OF PSYCHOLOGY. A JOURNEY THROUGH THE MOST SIGNIFICANT RESEARCH ON MAN AND HIS ACTING

Author:

Saulo Sirigatti, Cristina Stefanile, Giorgio Nardone

Year:

2008

Publisher:

Ponte alle Grazie

Necklace:

Brief therapy essays

Read More