HYPNOSIS AND HYPNOTIC THERAPIES. MYSTERIES REVEALED AND MYSTERIES DISSOLVED
A collection of essays and a comprehensive overview of hypnosis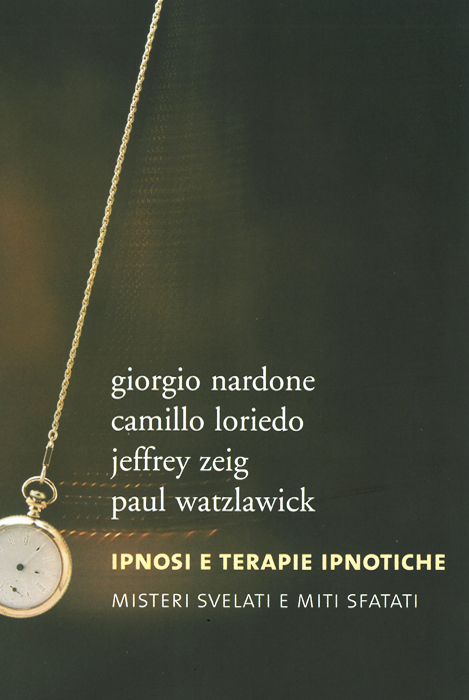 Author:
Giorgio Nardone, Paul Watzlawick, Camillo Loriedo
Year:
2006
Publisher:
Ponte alle Grazie
Necklace:
Brief therapy essays
Hypnosis is not, as myths and prejudices want, a state of loss of consciousness, but on the contrary a natural condition that alternates and integrates with wakefulness; we often go through states of suggestion or trance that help us better manage the surrounding reality.
Furthermore, the hypnotic trance is not induced by magical and mysterious methods, but self-induced by the subject, while the role of the hypnotist is only to facilitate the process.
The essays collected in this volume draw a complete overview of hypnosis: its history, the processes that produce and regulate it, its uses. For more than a decade the authors, four famous therapists, have studied its characteristics and have come to develop new methods to use it successfully, particularly in the field of Brief Therapy.
Precisely because it is "natural" and is based on the individual characteristics of the subject, in fact, hypnosis has proved to be very effective in helping patients to free themselves from their pathological behaviors thanks to self-persuasion, without any external imposition. For example, we will see how a little magic can be achieved in just one session: quitting smoking. Does hypnosis no longer have secrets? He has only one: the "true interest", that is, the attentive and participatory observation of the subject and of her behavior.
Spanish

HIPNOSIS Y TERAPIAS HIPNOTICAS. A GUIA QUE DESVELA EL VERDADERO PODER DE LA HIPNOSIS

Author:

Camillo Loriedo, Giorgio Nardole, Paul Watzlawick, Jeffrey Zeig

Year:

2008

Publisher:

RBA Books

Necklace:

Read More