THE MIND AGAINST NATURALZA. SHORT ESTRATÉGIC THERAPY PARA LOS PROBLEMAS SEXUALES
short and strategic therapy for the problems of sexuality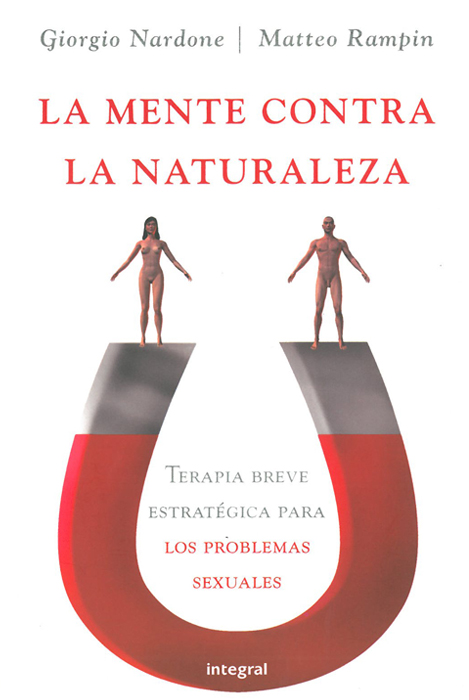 Author:
Giorgio Nardone, Matteo Rampin
Year:
2007
Publisher:
RBA Books
Necklace:
Whole grain
El placer del sexo is an expresión que hoy se escucha muy a menudo. Y mucha gente cree que, para ser feliz, es imperescindible tener una fantástica y maravillosa vida sexual. Porque eso exige el mundo de hoy. Podría decirse que, when el sexo was algo pecaminoso, para algunas personas was algo mucho más placentero. Para muchos, hoy en día, se ha convertido en una obligación. El enfoque de la brief estratégica therapy intends resolver los conflictos y trastornos sexuales by means of técnicas paradójicas.
Giorgio Nardone is psychologist, psychotherapist, fundador and director of the Centro de Terapia Estratégica de Arezzo. He es el mayor exponent between the investigators of the llamada Escuela de Palo Alto, y en su práctica clínica of him has achieved establecer métodos eficaces para el tratamiento de diversas pathologías, como los trastornos fóbico-obsesivos or los trastornos Alimentos. Estudiosos y therapeutas de todo el mundo se inspiran en su trabajo of him. Giorgio Nardone offers conferences and seminars in numerous countries. In Spain he directs the Master in Short Extratégical Therapy that implements the Institut Gestalt, in Barcelona.
Italian

THE MIND AGAINST NATURE

Author:

Giorgio Nardone, Matteo Rampin

Year:

2005

Publisher:

Ponte alle Grazie

Necklace:

Short Therapy Essays

Read More

WHEN LE SEXE DEVIENT A PROBLÈME. THÉRAPIE STRATÉGIQUE DES TROUBLES SEXUELS.

Author:

Giorgio Nardone, Matteo Rampin

Year:

2018

Publisher:

Enrick B. Editions

Necklace:

Read More