THE STRATÉGIE DE RESOLUTION DE PROBLÈMES.
L'ART DE TROUVER DES SOLUTIONS AUX PROBLÈMES INSOLUBLES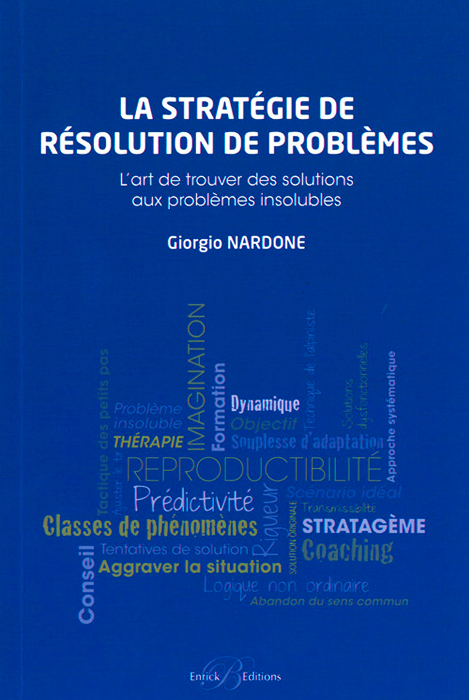 Author:
Giorgio Nardone
Year:
2015
Publisher:
Enrick B. Editions
Necklace:
Psychotherapy
Vous êtes convaincus que certains problèmes sont insolubles? Vous croyez dur comme fer que des pathologies qui durent depuis longtemps nécessitent des traitements de longue durée? Vous pensez que tout problème need a retour obligatoire dans le passé? Vous avez toujours imaginé que logique rigoureuse et imagination créatrice ne peuvent faire bon ménage? Alors ce livre est fait pour vous!
Psychothérapeute mondoment connu, Giorgio Nardone to étudié the art du stratagème et de la logique not ordinaire pour créer une technologie permant de trouver des solutions à des problèmes complexes.
À partir de cette technologie, dont vous découvgerez le détail des principales étapes, sont mis au point des protocoles de intervention stratégiques qui sont basés à la fois sur la synthèse de arte du stratagème et de la logique non ordinaire, mais aussi sur l 'expérimentation empirique dans deux milieux principaux, celui de la médecine et de l'enterprise. De nombreux exemples de cas viennent expliciter le mode de fonctionnement de cette technique novatrice et de ses nombreux protocoles.
Venez découvrir comment les problèmes les complexes peuvent trouver des solutions here pourront vous sembler parfois de une désarmante simplicité!
Italian

STRATEGIC POCKET PROBLEM SOLVING. THE ART OF FINDING SOLUTIONS TO IRRESOLVABLE PROBLEMS

Author:

Giorgio Nardone

Year:

2009

Publisher:

Ponte alle Grazie

Necklace:

Short Therapy Essays

Read More

Spanish

ESTRATÉGICAL PROBLEM SOLVING.
EL ARTE DE ENCONTRAR SOLUCIONES A PROBLEMAS IRRESOLUBLES

Author:

Giorgio Nardone

Year:

2010

Publisher:

Herder Editorial

Necklace:

Short Therapy

Read More