THE ART DU CHANGEMENT. THÉRAPIE STRATÉGIQUE ET HYPNOTHÉRAPIE SANS TRANSE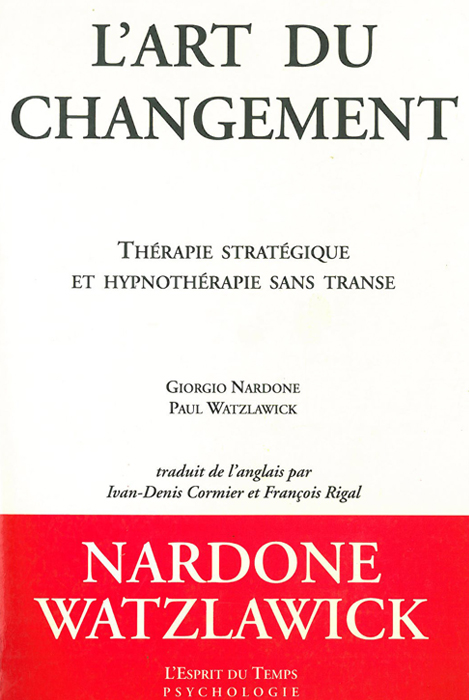 Author:
Giorgio Nardone, Paul Watzlawick
Year:
1993
Publisher:
L'Esprit du Temps
Necklace:
UN LIVRE MAJEUR - A GRAND CLASSIQUE DE LA PSYCHOLOGIE
«J'estime que ce livre est d'une fundamental importance pour all the professionnels intéressés par les psychothérapies fondées sur les concepts éricksoniens et systémiques. Je le recommande à tous ceux qui s'intéressent à la formation et à la resolution des problèmes humains car, bien qu'essentiellement destiné aux professionnels, ce livre est lisible et compréhensible par tous, et les stratégies décrites peuvent être appliquées non seulement aux psychothérapies mais également à des situations interpersonnelles plus générales et qui ne sont pas cliniques. "(Paul Watzlawick)
Giorgio Nardone enseigne les psychothérapies brèves à the Institut des Hautes Etudes Psychologiques de l'Université de Sienne, en Italie, and directs the Center de Thérapie stratégique d'Arezzo and the Institut Italien de Thérapie stratégique, fondé en 1989 en collaboration avec le Mental Research Institute of Palo Alto en Californie.
Paul Watzlawick est, depuis 1960, un des membres les plus éminents du Mental Research Institute de Palo Alto à la suite de Grégory Bateson and Don D. Jackson. The est également professeur au Center Médical de l'Université de Stanford et au Center Universitaire Ticinese de Lugano en Suisse.