L'AMOUR ET LA HAINE DE LA NOURRITURE.
OU COMMENT RÉSOUDRE RAPIDEMENT
LES TROUBLES DU BEHAVIOR ALIMENTAIRE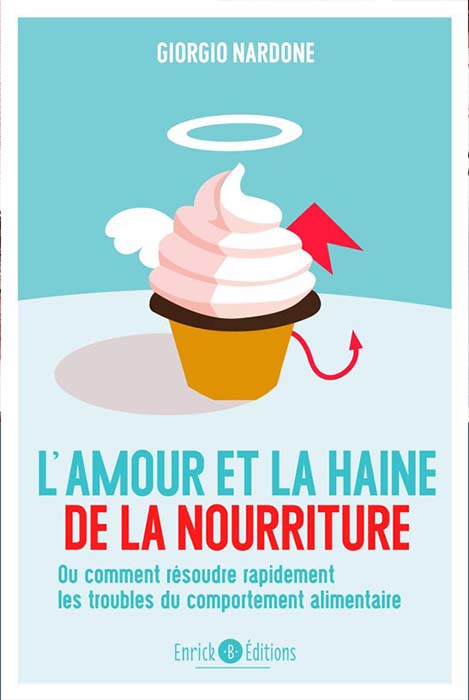 Author:
George Nardone
Year:
2019
Publisher:
Enrick B. Editions
Necklace:
Si on affirme que certaines thérapies se donnent dix séances pour résoudre votre problème, vous êtes en droit de vous interroger. Et si l'on ajoute à cela que ces thérapies ne s'intéressent pas à la cause de ce problème, mais explorent ce que vous faites ici et maintenant pour le résorber, comment réagissez-vous? Sceptiques?
Comme tout le monde, vous rencontrez des difficultés et en venez à bout. En general.
«Le fait que des problèmes soient douloureux et compliqués ne signifie pas que les solutions doivent l'être tout autant. Au contraire, les pathologies, même les plus sévères, peuvent être débloquées rapidement si l'on appuie sur le bon bouton. »Giorgio Nardone
L'un des meilleurs spécialistes des troubles phobiques et obsessionnels, Giorgio Nardone, examine ici les typologies des pathologies alimentaires les plus répandues afin d'expliquer leur naissance, leur maintien mais, surtout, la façon dont elles peuvent être rapidement soignées.
De anorexie juvénile à anorexie chronique, de la boulimie aux formes compulsives d'alimentation, the author expose the efficacité de traitements thérapeutiques ad hoc, qui s'adaptent tout à la fois aux specificités des troubles et aux individus.
Giorgio Nardone décrit les succès encourageants obtenus au fil de sa longue expérience de thérapeute. En relatant l'histoire de la guérison de ses patients, the nous offers a essai aux multiples facettes qui apporte des informations, mais aussi des solutions face à la maladie, et donc d'espoir.