THE ART OF CHANGE. TRASTORNOS FOBICOS Y OBSESIVOS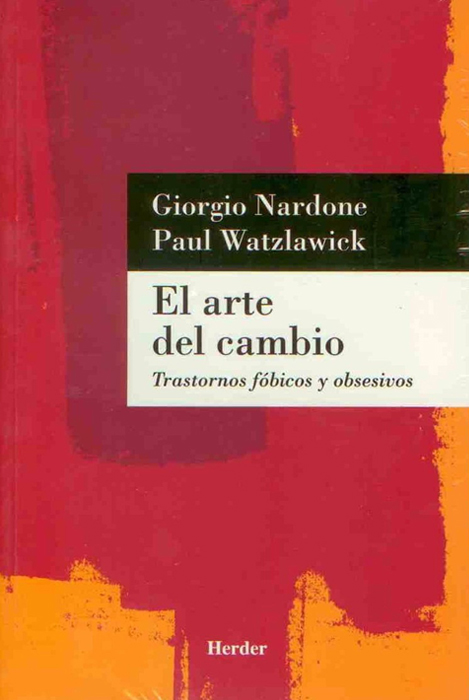 Author:
George Nardone
Year:
1992
Publisher:
HerderEditorial
Necklace:
Short Therapy
Esta obra proposes an authentic "Copernican revolución" in psychotherapy. Surge de la fertilidad creadora y permanent innovación teórica y clinical de la escuela de Palo Alto (California), conocida por las interesantes obras de Paul Watzlawick.
The extratégic aproximation to psychotherapy, esto es, the modern evolution of the systemic therapy in symbiosis with the hipnoterapia de Milton Erickson, really represents a perspectiva revolucionaria respecto de las forms convencionales de intervention psychotherapy.
If it is a new theoretical and operational model for the solution, in a short time period, of the individual's problems, of the pareja and of the family, aplicable también a contextos interpersonales más amplios, y no sólo clínicos (angustias, miedos , fobias ... que paralizan el rendimiento diario).
Para ganar las «jugadas», se recurre a técnicas refinadas de sugestión, paradojas y estrategias behaviores que sortean la resistencia to the change of the paciente, llevándolo to percibir la realidad de un modo nuevo ya obrar, en consecuencia, de una manera funcionalmente correcta.Paul Watzlawick is an associate investigator of the Mental Research Institute of Palo Alto and is listed in the Department of Physics and Sciences of the conduct of the Medical Center of Stanford University.
In the bibliography of this obra aparecen sus principales obras en castellano.Giorgio Nardone, doctor, if he trained in systemic and estratégic therapy in Palo Alto. He collaborates with the Instituto de Psychology of the University of Siena and with the Centro de Psychotherapy Estratégica de Arezzo.