FAMILY CONFLICTS. COMMENT SORT DES
IMPASSES RELATIONELLES IN PARENTS ET ENFANTS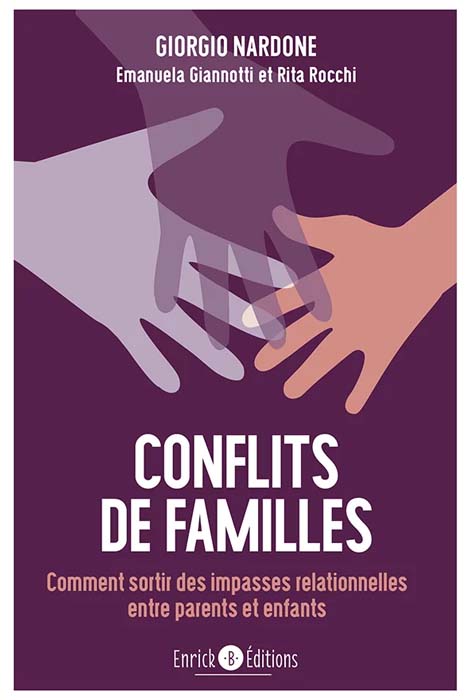 Author:
Giorgio Nardone, Emanuela Giannotti, Rita Rocchi
Year:
2018
Publisher:
Enrick B. Editions
Necklace:
The parental education is the un des ciments de notre société. Au travers de la famille, chaque parent s'évertue à offer a cadre structurant à ses enfants qui leur allow de trouver leur place dans la société et devenir des adultes épanouis et responsables.
Malheureusement, certaines règles censées être structurantes peuvent rapidement se transformer in a cadre trop rigid à the origin of situations conflictuelles à repétition, et dont il est très difficile de s'affranchir.
Une fois englué dans des relations difficulties, comment s'en sortir?
Dans cet ouvrage sur les relations familiales, Giorgio Nardone et ses collaborateurs ont réuni the travail de plusieurs années de recherches-interventions auprès de centaines de familles.
The en résulte six modèles de cellules familiales potentiellement générateurs de conflit:
- Model «autoritaire»
- Model "laxiste"
- Modèle "surprotection"
- Model "zapping"
- Model «dévotion»
- Model "délégation"
Riche de descriptions théoriques et de cas cliniques qui illustrent chacun des modèles, Giorgio Nardone présente des stratégies de solutions simples, claires et surtout rapides parvenant ainsi à briser ces modèles rigides qui peuvent se former au cours d'années de protection et d'obstruction. Ne dit-on pas que l'enfer est pavé de bonnes intentions?
Italian

FAMILY MODELS. KNOWING AND SOLVING PROBLEMS BETWEEN PARENTS AND CHILDREN

Author:

Giorgio Nardone, Emanuela Giannotti, Rita Rocchi

Year:

2008

Publisher:

Tea Editions

Necklace:

Tea practice

Read More

Spanish

MODELOS DE FAMILIA. CONOCER Y RESOLVER LOS PROBLEMAS BETWEEN PADRES AND HIJOS

Author:

Giorgio Nardone, Emanuela Giannotti, Rita Rocchi

Year:

2003

Publisher:

HerderEditorial

Necklace:

Short Therapy

Read More

English

THE EVOLUTION OF FAMILY PATTERNS AND INDIRECT THERAPY WITH ADOLESCENTS

Author:

Giorgio Nardone, Emanuela Giannotti, Rita Rocchi

Year:

2007

Publisher:

Karnac

Necklace:

Family, Couple and Systemic Therapy Books

Read More