CONOCER IN TRAVÉS DEL CAMBIO. THE EVOLUTION OF SHORT ESTRATÉGIC THERAPY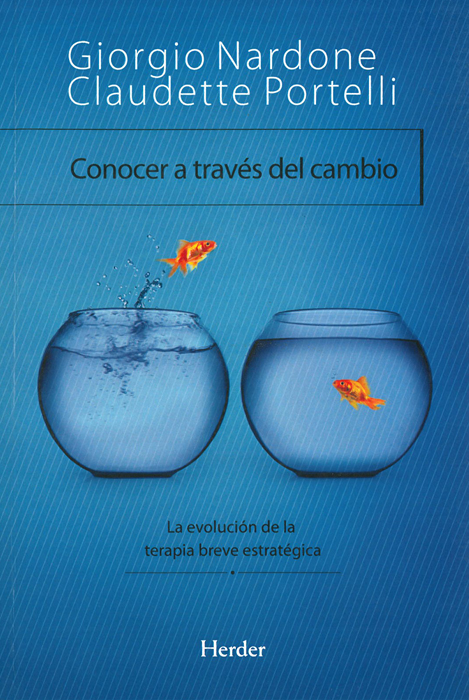 Author:
Giorgio Nardone, Claudette Portelli
Year:
2009
Publisher:
HerderEditorial
Necklace:
Short Therapy
Esta obra presents the culmination of décadas de progreso en psychotherapy.
El profesor Nardone y sus colegas, by means of el innovador enfoque de la brief estratégica therapy, have desarrollado unos protocolos de tratamiento sumamente eficaces para las psychopathologias más diversas: anorexia, el trastorno obsesivo-compulsivo, paranoia ...
El enfoque se centra en la propia lógica de los pacientes y, as el arte marcial del aikido, allows the therapist to use the resistencia de estos para hacer frente a psychopathology cuyos síntomas han persistido during años de therapy tradicional, logrando cambiar la situación en pocas sesiones .
Italian

CHANGE TO KNOW. THE EVOLUTION OF SHORT STRATEGIC THERAPY

Author:

Giorgio Nardone, Claudette Portelli

Year:

2015

Publisher:

Tea Editions

Necklace:

Variety tea

Read More

French

THE CONNAISSANCE PAR LE CHANGEMENT. L'ÉVOLUTION DE LA THÉRAPIE BRÈVE STRATÉGIQUE

Author:

Giorgio Nardone, Claudette Portelli

Year:

2005

Publisher:

Satas Editeur

Necklace:

The Germs

Read More

English

KNOWING THROUGH CHANGING. THE EVOLUTION OF BRIEF STRATEGIC THERAPY

Author:

Giorgio Nardone, Claudette Portelli

Year:

2005

Publisher:

Crown House Publishing

Necklace:

Read More