NO HAY NOCHE QUE NO VEA EL DÌA. THE SHORT THERAPY PARA LOS ATAQUES DE PÁNICO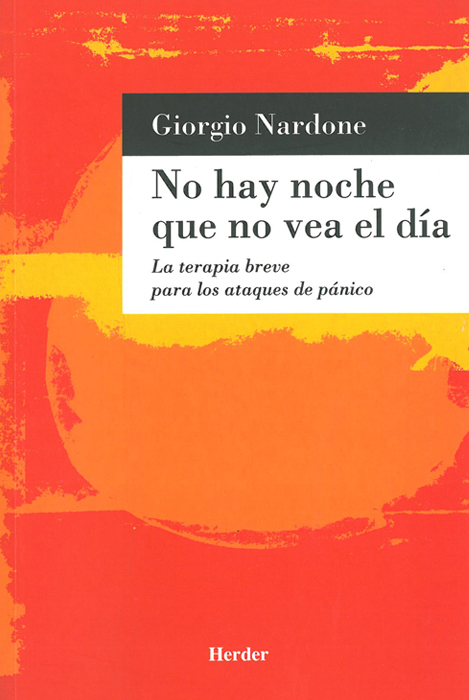 Author:
George Nardone
Year:
2004
Publisher:
HerderEditorial
Necklace:
El miedo, al ser la más primitiva de entre nuestras emociones, cuando alcanza sus extremos, es la más concrete y real de nuestras sensaciones and implies mind and heart in a reactive secuencia tan rápida que se anticipates a cualquier pensamiento. Las formas y los lugares del panico son de lo más different, todos los conocemos y quizás hemos tenido experiencias alguna vez:
el miedo a la altura, a las multitudes, los lugares cerrados, el miedo a volar, a perder a las personas queridas, a los ascensores, al propio aspecto físico. El hecho que este type de pathology tan extendida sea tan invaders y discriminante para the person que la padece no means, without embargo, que sea una condena de la cual es imposible liberarse.
This book explains the innovative therapist model of Giorgio Nardone, who has shown how he is most effective in the field of the elaborations at the moment, and desvels the mechanics that con-ducen to this type of pathology:
a ventana abierta a los enigmas de la mente humana. The method is based on an idea sencilla pero eficaz: conocer a problem partiendo de su solución. En lugar de interesarse en el por qué los trastornos llegan a formarse, Nardone se interesa en cómo funcionan estas problemáticas y concentrates on trabajo of him en las soluciones.
The protocol is based in refinadas técnicas de sugestión hipnótica, trampas de behavior and "engaños provechosos" that avoid the resistance of the patient to the exchange with surprising results for su eficacia, short and bajos costes económicos. In this Esperanzador book, Nardone applies to her therapy in the panic and poses de manifiesto that she represents an enormously effective and rapid path for the superación del miedo.
Italian

THERE IS NO NIGHT THAT DOES NOT SEE THE DAY. SHORT-TERM THERAPY FOR PANIC ATTACKS

Author:

George Nardone

Year:

2005

Publisher:

Tea Editions

Necklace:

Tea practice

Read More

Italian

THERE IS NO NIGHT THAT DOES NOT SEE THE DAY. SHORT-TERM THERAPY FOR PANIC ATTACKS

Author:

George Nardone

Year:

2003

Publisher:

Ponte alle Grazie

Necklace:

Short Therapy Essays

Read More