OBSESSIONS AND COMPULSIONS. THE PROPIZIATORY RITUALITIES BETWEEN NEUROSCIENCES, DEMONOLOGY AND PSYCHOTHERAPY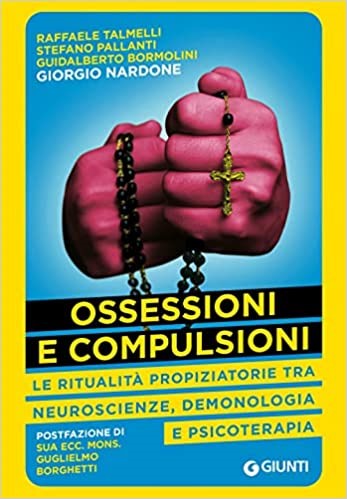 Author:
Raffaele Talmelli, Stefano Pallanti, Guidalberto Bormolini, Giorgio Nardone
Year:
2021
Publisher:
Joints publisher
Necklace:
Essays. Psychology
Four authors, four scientific and religious perspectives to discuss an ancient problem, but which manifests itself more often than we imagine even in modernity: obsessive-compulsive disorder (DOC) of a propitiatory magical-religious type. The relationship between religious thought and DOC is an extremely topical issue. Although science has built many certainties, there are just as many insecurities: the recourse to the magic and superstitious or instrumentally entrusting oneself to faith then appear as propitiatory rites that offer apparent protections against uncontrolled anguish and fears. The very complex theme in this volume is dealt with in all its facets: from the anthropological ones and closely connected with the evolution of man to those that consider the spiritual life as a "fight" against the diabolical temptations to perform acts immoral, to those based on contemporary research that has provided important information on the possible correlations between obsession and brain connectivity, immunology and genetics. All this without forgetting psychotherapy, in particular the Brief Strategic one, which has developed particularly effective strategies for OCD, detailed in these pages also through surprising exemplifying cases. Afterword by his Exc. Mons. Guglielmo Borghetti.