THE THERAPY OF PANIC ATTACKS. FREE FOREVER FROM PATHOLOGICAL FEAR
Forever free from pathological fear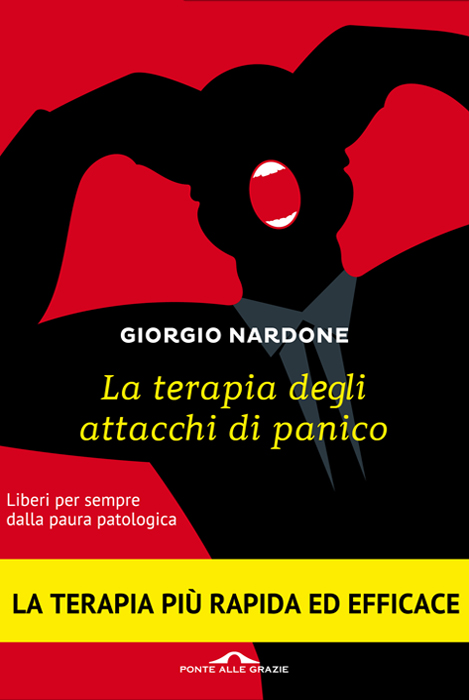 Author:
George Nardone
Year:
2016
Publisher:
Ponte alle Grazie
Necklace:
Short Therapy Essays
It can happen to feel terrified in the midst of people, in closed or open spaces: it is agoraphobia and claustrophobia.
Sometimes you can't catch a flight or climb escalators, or you can't see a cat without shivering. These are phobias that can give rise to panic disorder: the heartbeat accelerates, the breathing becomes labored, you feel you are losing control, you seek refuge in avoiding the supposed risks. However, fear is a fundamental and reasonable emotion, since it triggers the mechanisms of attack or flight when we are in danger. It can therefore save our life, while what can ruin it is the fear of fear, the preventive fear of the psychophysiological reactions that our organism may have in the face of what we perceive as a threat.
It is therefore necessary to put this emotion back into perspective in order to become its masters again. But what is the way out of the vicious circle of self-generating phobia? According to Giorgio Nardone, a long psychotherapy is not needed, but rather a paradoxical strategy that guides us to face fear, indeed to increase it to the point of canceling it.
In fact, to heal from panic attacks, a short targeted therapy is enough, based on the therapist's logical and at the same time suggestive language, on unusual tasks that the patient must perform literally, on the idea that one must "put out the fire by adding wood". Thanks to the report of some cases of therapeutic dialogue, this book shows that breaking free from panic is easier and faster than you can imagine. The important thing is to get help from those who know how to do it.
Нардонэ Дж. Терапия панических атак. Obedience to the disease of the street

Author:

Нардонэ Джорджио

Year:

2021

Publisher:

Psychology and science

Necklace:

Read More