PIENSO, LUEGO SUFRO. WHEN THINKING DEMASIAD HACE DAÑO
El libro se proposes ayudarnos a pensar mejor ya tomar mejores decisiones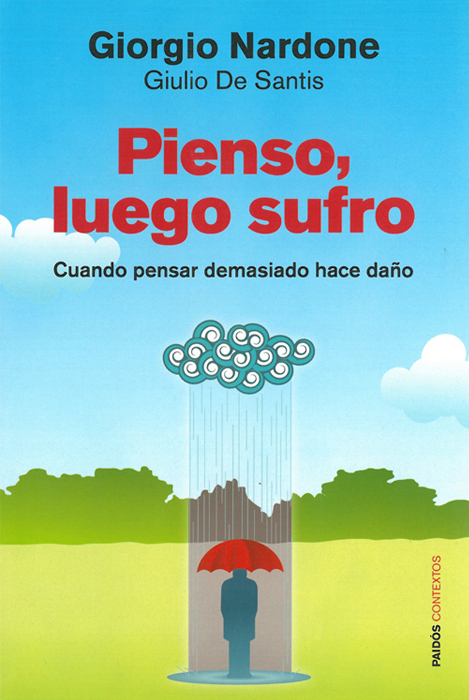 Author:
Giorgio Nardone, Giulio De Santis
Year:
2012
Publisher:
Paidos
Necklace:
Psychology
El libro se proposes ayudarnos a pensar mejor ya tomar mejores decisiones. Para ello, hace un balance de la aventura intelectual del hombre en Occidente, explicando el desarrollo de la racionalidad a través del ejercicio de la duda, ya que disciplinas como la philosophía, la ciencia y la psychology consideran que la duda y la superación de la misma constituyen el instrumento methodological and toma de decisiones por excelencia.
But, what happens when intentamos aplicar in "piensocentrism" in the practice, in the life of the day, ante elecciones y decisiones que no pueden resolverse por medio de la lógica y del razonamiento más estricto? Pues lo que ocurre es que caemos en una trampa, en un autoengaño, en una verdadera "psychopathology of the vida cotidiana": tenemos la ilusión de poder resolver a crisis amorosa, a crucial decision confiándonos al poder de la razón o bien, en el extreme opuesto, buscamos la certainza en las "verdades reveladas", ya sean religiosas, científicas or ideológicas.
En algunas ocasiones, "el pensar" deja de ser un instrumento infalible para convertirse en un obstáculo insuperable, fuente de incertidumbre or including de sufrimiento psychologic, hasta el punto de asumir formas patológicas que acaban por bloquear al sujeto.
En estas páginas Giorgio Nardone adapta este planteamiento to the psychological investigation, and proposes therapeutic solutions "centered in the problem" and inspiradas in the model of brief extrathic therapy. Puesto que, para el autor, es necesario "reorientar" extratégically el pensamiento para descubrir su potencialidad: en vez de obstinarnos en buscar las respuestas, lo que debemos hacer es preocuparnos por formular mejor las preguntas.
Italian

COGITO ERGO SUFFRO. WHEN THINKING TOO MUCH HURTS

Author:

Giorgio Nardone, Giulio De Santis

Year:

2011

Publisher:

Ponte alle Grazie

Necklace:

Short Therapy Essays

Read More

ANATOMY DU DOUTE. DU DOUTE PATHOLOGIQUE AU DOUTE STRATÉGIQUE

Author:

Giorgio Nardone, Giulio De Santis

Year:

2017

Publisher:

Enrick B. Editions

Necklace:

Read More