ESTRATÉGICAL PROBLEM SOLVING.
EL ARTE DE ENCONTRAR SOLUCIONES A PROBLEMAS IRRESOLUBLES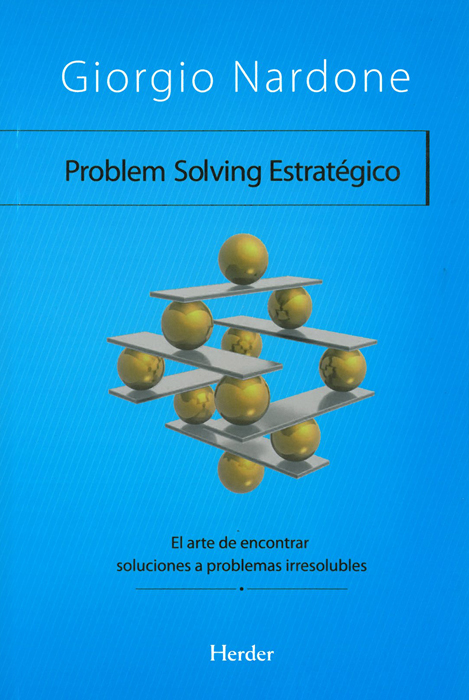 Author:
George Nardone
Year:
2010
Publisher:
HerderEditorial
Necklace:
Short Therapy
Desde hace más de veinte años Giorgio Nardone comes desarrollando with éxito modalidades de intervención especificas basadas in el modelo del problem Solving Estratégico, cuya aplicación va de la psychotherapy a la resolución de situaciones problemáticas en las organizaciones. The aplicabilidad del modelo contemplates situations tan diversas as the food trastornos, the phobias, the ataques de panico, the coaching individual and the consultoría empresarial, escolar y deportiva.
Estas páginas describen the "technology" of Problem Solving Estratégico, síntesis de conocimiento y arte prácticos, de theory and empirical investigations, to despertar the problem solver that hay en cada one de nosotros y aprender a "ser really artífices y no víctimas de nuestro destiny ".
Yes hay a problem también hay una solución
Define the problem
Determine and agree on the objective to set
Evaluar las soluciones intentadas que mantienen el problem
Introduce the change of extratégical form
Italian

STRATEGIC POCKET PROBLEM SOLVING. THE ART OF FINDING SOLUTIONS TO IRRESOLVABLE PROBLEMS

Author:

George Nardone

Year:

2009

Publisher:

Ponte alle Grazie

Necklace:

Short Therapy Essays

Read More

Spanish

ESTRATÉGICAL PROBLEM SOLVING.
EL ARTE DE ENCONTRAR SOLUCIONES A PROBLEMAS IRRESOLUBLES

Author:

George Nardone

Year:

2010

Publisher:

HerderEditorial

Necklace:

Short Therapy

Read More

French

THE STRATÉGIE DE RESOLUTION DE PROBLÈMES.
L'ART DE TROUVER DES SOLUTIONS AUX PROBLÈMES INSOLUBLES

Author:

George Nardone

Year:

2015

Publisher:

Enrick B. Editions

Necklace:

Psychotherapy

Read More