PSYCHOSOLUTIONS.
COMMENT RÉSOUDRE RAPIDEMENT LES PROBLÈMES HUMAINS COMPLEXES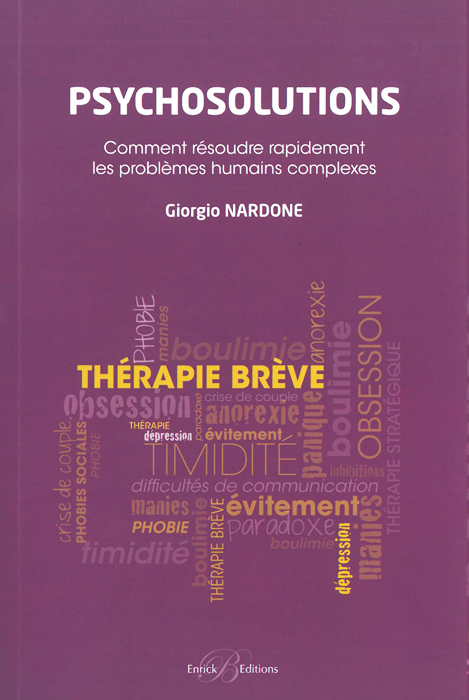 Author:
George Nardone
Year:
2015
Publisher:
Enrick B. Editions
Necklace:
Psychotherapy
Nous tous, les humains, possédons une formidable capacité à nous compliquer la vie, ma le fait que puissent se manifester en nous des souffrances persistantes et pathologiques ne veut pas dire que soient obligatoirement nécessaires pour les guérir des traitements également douloureux etés prolong. L'expérience de chercheurs réputés et de nombreux thérapeutes a en effet démontré qu'il était possible, par des thérapies psychologiques basées sur des interventions stratégiques, suggestives et bien focalisées, de conduire les sujets que nous sommes à l'xtinction rapide de leurs propres souffrances.
In travers des anecdotes, des métaphores et des histoires de thérapies apparently "magiques", Giorgio Nardone convie le lecteur à un agréable and useful voyage à la découverte de arte de résoudre les problèmes humains complexes par des solutions "simples". Il montre aussi combien les solutions imaginées par les thérapeutes contemporains se retrouvent déjà dans le livre des stratagèmes de la Chine ancienne, dans les formules de Lao Tseu ou dans certains dictons populaires occidentaux. La grande originalité de ce livre est enfin de proposer des stratégies thérapeutiques utiles aux thérapeutes comme aux patients, et surtout a protocol of auto-traitement permitting a chacun d'élaborer des stratagèmes efficaces pour ses propres difficultés.