PSYCHOTRAMPAS. IDENTIFY LAS TRAMPAS PSICOLÓGICAS QUE TE AMARGAN LA VIDA Y
ENCUENTRA LAS PSICOSOLUCIONES PARA VIVIR BETTER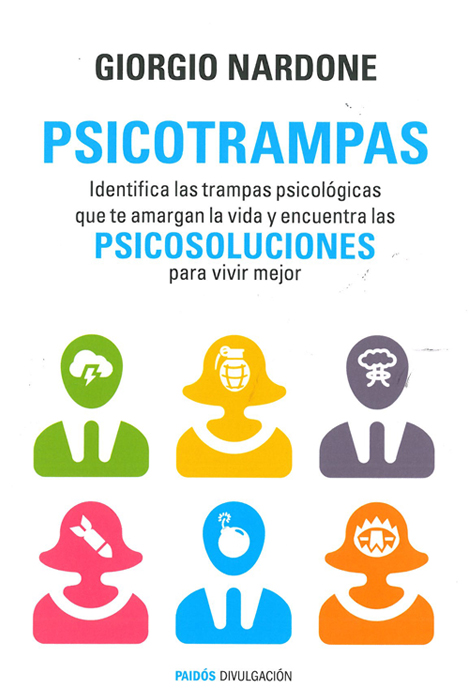 Author:
George Nardone
Year:
2014
Publisher:
Paidos
Necklace:
Disclosure-Autoayuda
Para cada type de sufrimiento psychologic existe una vía de salida. It opens to reconocer cuál es la tuya ya poner en práctica tus propias "psychosoluciones".
A menudo acabamos abatidos y cansados ​​de nosotros mismos porque una y otra vez repetimos behavioros que nos impiden resolver nuestros problemas. Estas maneras de actuar negativas son fruto de las "psychotrampas", of the psychic mechanics that nos hemos construido y acaban encadenándonos.
The book is structured in three parts many practices:
Las sei trampas del pensamiento: el engaño de las expectativas; the ilusión de que lo sabemos todo; el mito del razonamiento perfecto; lo siento de esta manera, por tanto, es así; exceso de "pensamiento positivo"; coherencia to cualquier precio; y sobrevalorar y / o infravalorar.
Las ocho trampas de nuestra manera de actuar: to insist; renunciar y rendirse; the mania for control; the avoidance; el rechazo; the ayuda que perjudica; defenderse in advance; y socializarlo todo.
Las combinaciones patógenas: el fóbico; el obsesivo; el compulsive; el paranoico; el patofóbico / hipocondríaco; el depresivo; y el inseguro crónico.
Italian

PSYCHOTRAPS. THE SUFFERINGS WE BUILD OURSELVES: RECOGNIZE AND FIGHT THEM

Author:

George Nardone

Year:

2013

Publisher:

Ponte alle Grazie

Necklace:

Brief therapy essays

Read More

ПСИХОЛОГИЧЕСКИЕ ЛОВУШКИ. КАК МЫ
СОЗДАЕМ ТО, ОТ ЧЕГО ПОТОМ СТРАДАЕМ

Author:

Джорджио Нардонэ

Year:

2019

Publisher:

1000 Bestsellers

Necklace:

Read More

FR; French

LES PIÈGES PYCHOLOGIQUES

Author:

George Nardone

Year:

2016

Publisher:

Satas Editeur

Necklace:

Thérapies brèves

Read More