PSYCHOTRAPS. THE SUFFERINGS WE BUILD OURSELVES: RECOGNIZE AND FIGHT THEM
The sufferings that we build by ourselves recognize them and fight them, Ponte alle grazie edizioni.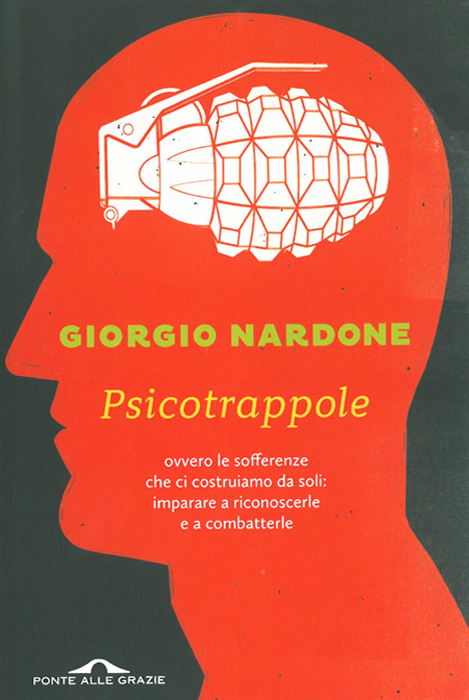 Author:
George Nardone
Year:
2013
Publisher:
Ponte alle Grazie
Necklace:
Brief therapy essays
Defuse your psychotrap: you activated it, you built it involuntarily, but now you are a prisoner of it. How did you do? You repeated behaviors that initially solved your problems: they were effective solutions, so you always applied them, without worrying about the results. In truth, they are your psychotrap: the attempted bankruptcy solutions. You have complicated your life yourself, you have wrapped yourself in chains just like Houdini did, only you did it without realizing it, and you find yourself trapped.
In these pages you can find instructions to understand how your discomforts are structured, how to get better, to be aware of your mechanisms again. If you have triggered your psychotrap, you will always find your psychosolution here.
"Anyone can build the psycho traps to become a prisoner of, not just those who are poorly gifted, fragile or ignorant. In my experience as a clinician, on the contrary, the most incredible and difficult cases to treat concerned exceptionally gifted people: precisely by virtue of their superior abilities these subjects also take the problems to extremes.
It could be said that the psychopathological complication is directly proportional to the intelligence and abilities of the subject who suffers from it, since, precisely by virtue of these, he is able to dig a much deeper trap, or to build a prison or a labyrinth around himself. from which it seems impossible to escape. "
Italian

PSYCHOTRAMPAS. IDENTIFY LAS TRAMPAS PSICOLÓGICAS QUE TE AMARGAN LA VIDA Y
ENCUENTRA LAS PSICOSOLUCIONES PARA VIVIR BETTER

Author:

George Nardone

Year:

2014

Publisher:

Paidos

Necklace:

Disclosure-Autoayuda

Read More

FR; French

LES PIÈGES PYCHOLOGIQUES

Author:

George Nardone

Year:

2016

Publisher:

Satas Editeur

Necklace:

Thérapies brèves

Read More

ПСИХОЛОГИЧЕСКИЕ ЛОВУШКИ. КАК МЫ
СОЗДАЕМ ТО, ОТ ЧЕГО ПОТОМ СТРАДАЕМ

Author:

Джорджио Нардонэ

Year:

2019

Publisher:

1000 Bestsellers

Necklace:

Read More