RISING AND WINNING A STORY OF TALENT,
MENTAL TECHNIQUE AND STRATEGIES
Aldo Montano, fencing champion, talks about his adventure of revenge and victory together with Giorgio Nardone and Giovanni Sirovich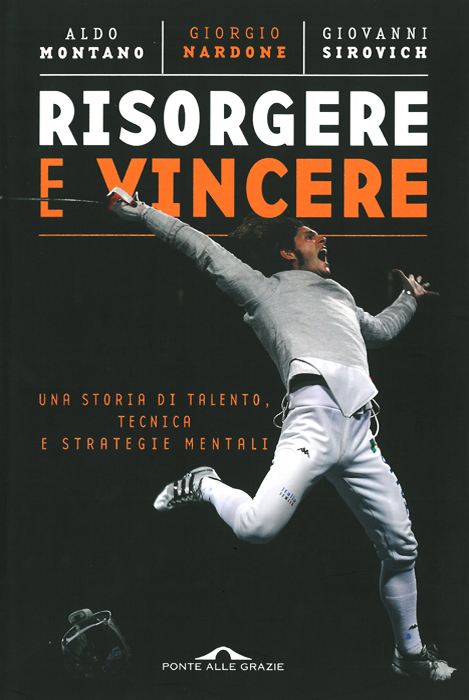 Author:
Giorgio Nardone, Aldo Montano, Giovanni Sirovich
Year:
2012
Publisher:
Ponte alle Grazie
Necklace:
Short Therapy Essays
Triumphing at the Olympics is not for everyone. But facing a very hard crisis and resurrecting at the highest levels despite injuries is perhaps an unrepeatable adventure for a sportsman. The protagonist of this enterprise is Aldo Montano, undisputed champion of Italian and international fencing of recent years.
It is a story of revenge, of victories, also studded with deep fears and disappointments, which culminates with the exhilarating conquest that brought Montano to the top step of the podium at the 2011 World Championships in Catania.
The story is a compelling sports chronicle, and at the same time a modern swashbuckling novel - bloodless and often ironic - told from a privileged point of view, "behind the scenes", by the voices of the three characters: the champion Aldo Montano, the commissioner national saber technician Giovanni Sirovich and Giorgio Nardone, "psychologist and strategist".
Respectively talent, technique and strength of mind: beyond the athlete's natural gifts and muscular power, performance requires very high perceptive and reactive models, in which the technique becomes fluid, spontaneous, up to the "competitive trance". Thus Strategic Problem Solving, hypnosis and the suggested stratagems become highly effective tools available to the sportsman - and decisive in Montano's case. The text, in fact, also represents a sort of performance science manual. But the real beauty of these pages, their profound humanity, is that it can concern us all closely, and teach us that courage and sacrifice are irreplaceable resources in any situation.
ES; Spanish

RESURGIR Y VENCER. A HISTORIA DE TALENTO, TÉCNICA Y ESTRATEGIAS MENTALES

Author:

Giorgio Nardone, Aldo Montano, Giovanni Sirovich

Year:

2013

Publisher:

Paidos

Necklace:

Thought

Read More