SILLONNER LA MER À L'INSU DU CIEL. LEÇONS SUR LE CHANGEMENT THÉRAPEUTIQUE ET LES LOGIQUES NON ORDINAIRES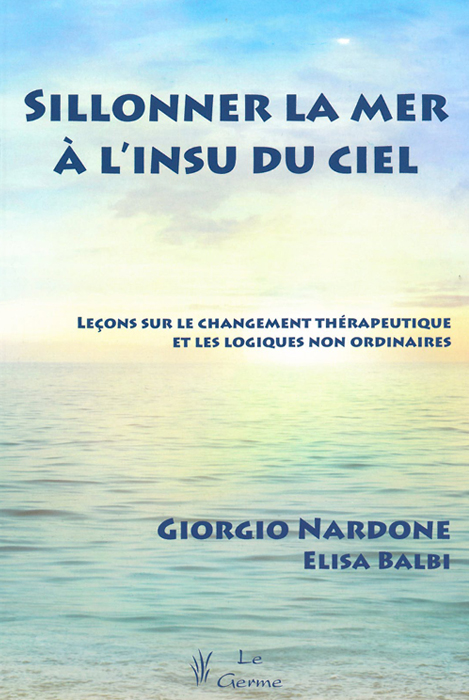 Author:
Giorgio Nardone, Elisa Balbi
Year:
2012
Publisher:
Satas Editeur
Necklace:
The Germs
En 1988 paraissait the original edition of L'art du changement, livre avec lequel Giorgio Nardone présentait l'activité thérapeutique qu'il mène depuis lors et dont les succès sont rapportés et explicités dans le présent ouvrage.
Pendant ces vingt-cinq ans, grâce à un usage toujours plus conscient du paradoxe, de la croyance et de la contradiction - c'est-à-dire des logiques non ordininaires - Nardone est parvenu à identifier les constantes permant de choisir, pour chaque cas, la stratégie la mieux adaptée for facing and résoudre les pathologies les plus importantes à l'échelle de l'ividu, du groupe ou de l'entreprise.
Un parcours dans lequel on ne part pas de abstraction linéaire d'une théorie pour passer ensuite à ses applications mais où l'on opère de façon exactement opposée, grâce à ce que Nardone appelle "la conscience opératoire":
c'est à travers sa solution que l'on parvient à la connaissance d'un problème.
It is the base de cette conscience opératoire, the acceptance de la réalité comme perpétuel changement, et de la croyance, de la contradiction et du paradoxe comme des faits toujours opérants dans les proces-sus mentaux et, par conséquent, dans les comportements.
Et ce sont justement ces faits qui, lors- qu'ils sont reconnus, nous suggèrent la voie la plus adequate pour la resolution des problèmes. La vérité d'une théorie se déduit de ses résultats: une psychothérapie qui fonctionne est une bonne psychothérapie.
Italian

CROSSING THE SEA UNKNOWN OF THE SKY. LESSONS ON THERAPEUTIC CHANGE AND NON-ORDINARY LOGICS

Author:

Giorgio Nardone, Elisa Balbi

Year:

2008

Publisher:

Ponte alle Grazie

Necklace:

Short Therapy Essays

Read More

Spanish

SURCAR EL MAR SIN QUE EL CIELO LO SEPA. LECCIONES SOBRE EL THE THERAPEUTIC CHANGE Y LAS LÓGICAS NO ORDINARIAS

Author:

Giorgio Nardone, Elisa Balbi

Year:

2009

Publisher:

HerderEditorial

Necklace:

Read More

French

SILLONNER LA MER À L'INSU DU CIEL. LEÇONS SUR LE CHANGEMENT THÉRAPEUTIQUE ET LES LOGIQUES NON ORDINAIRES

Author:

Giorgio Nardone, Elisa Balbi

Year:

2012

Publisher:

Satas Editeur

Necklace:

The Germs

Read More