STRATEGIC POCKET PROBLEM SOLVING. THE ART OF FINDING SOLUTIONS TO IRRESOLVABLE PROBLEMS
Strategic problem solving in action. individual coaching, business, school and sports consultancy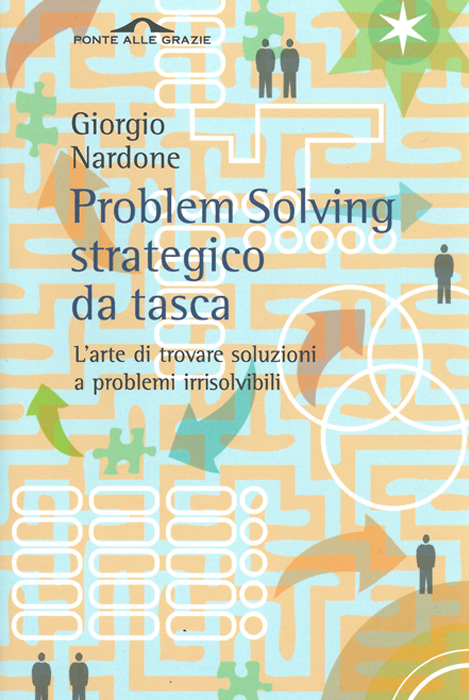 Author:
George Nardone
Year:
2009
Publisher:
Ponte alle Grazie
Necklace:
Short Therapy Essays
For more than twenty years Giorgio Nardone has successfully developed some intervention modalities based on the strategic Problem Solving model, whose application ranges from psychotherapy, in the treatment of serious pathologies such as eating disorders, phobias and panic attacks. , individual coaching and business, school and sports consultancy.
This text briefly describes the tools one should equip oneself with to master the "technology" of Problem Solving, a synthesis of knowledge and practical art, of theory and empirical research.
Defining the problem, identifying the "attempted dysfunctional solutions", introducing change are the cornerstones of an approach that focuses entirely on effectiveness and the achievement of objectives.
From a strategic point of view, we no longer know in order to change, but we change in order to know: the use of a non-ordinary logic, based on the suggestion of ancient and at the same time very modern stratagems, shakes our rational convictions and offers unexpectedly simple solutions to problems of disparate nature.
This is why Nardone is not only addressed to psychotherapists and managers, but to the problem solver that is in each of us: these pages want to teach us to "be truly architects and not victims of our destiny".
Spanish

ESTRATÉGICAL PROBLEM SOLVING.
EL ARTE DE ENCONTRAR SOLUCIONES A PROBLEMAS IRRESOLUBLES

Author:

George Nardone

Year:

2010

Publisher:

HerderEditorial

Necklace:

Short Therapy

Read More

French

THE STRATÉGIE DE RESOLUTION DE PROBLÈMES.
L'ART DE TROUVER DES SOLUTIONS AUX PROBLÈMES INSOLUBLES

Author:

George Nardone

Year:

2015

Publisher:

Enrick B. Editions

Necklace:

Psychotherapy

Read More