STRATEGIES AND STRATAGEMMS OF PSYCHOTHERAPY. HYPNOTIC AND NON-HYPNOTIC TECHNIQUES FOR THE SOLUTION, IN SHORT TIMES, OF COMPLEX PROBEMS
the pragmatic revolution of brief therapy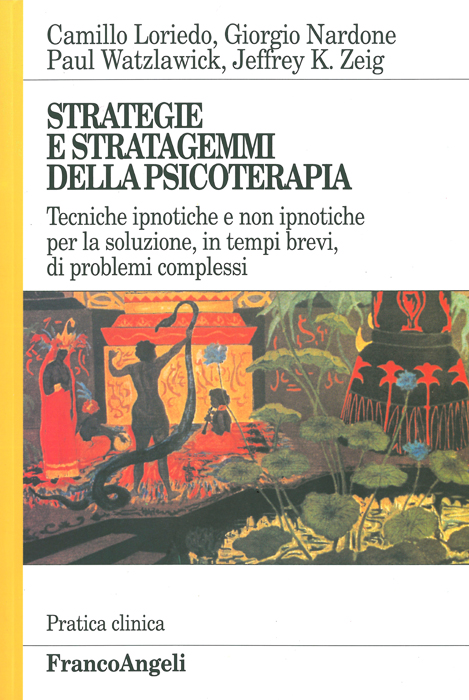 Author:
Camillo Loriedo, Giorgio Nardone, Paul Watzlawick, Jeffrey Zeig
Year:
2002
Publisher:
Franco Angeli
Necklace:
Hypnosis and Hypnotherapy
There is an increasing need to review the concepts that characterized the pragmatic revolution of brief therapy, and this volume responds to this need by offering new answers that promise to anticipate further developments.
Alongside in-depth theoretical expositions, complete clinical examples of treatment are presented in the punctuality of the literal transcription.
The reader can follow the development of the brief intervention, observing "in vivo" the arising of difficulties and the elaboration of strategies to overcome them. The commentary accompanying the transcription of the cases takes up the theoretical presentations, illustrating their application or proposing new conceptualizations that the therapeutic process makes necessary or causes to spring from the therapist's imagination.
Sometimes the therapeutic intervention seems to escape from explanatory definitions. Language, in its verbal and non-verbal components, reveals its properties which, as Watzlawick states, "can be considered therapeutic in and of itself; they can help change human behavior, not by virtue of their content, but by virtue of their structure ".
These are properties that manage to make themselves invisible to a superficial observation, but which accompany human interactive experiences. Only the meticulous investigation made possible by the transcription allows us to appreciate the structuring force that language assumes towards behavior. Through this passage, while discovering strategies and stratagems, scattered a little everywhere in the book, the multiple and personal "ways of being of the therapist" peremptorily emerge from the background.
Spanish

HIPNOSIS Y TERAPIAS HIPNOTICAS. A GUIA QUE DESVELA EL VERDADERO PODER DE LA HIPNOSIS

Author:

Camillo Loriedo, Giorgio Nardole, Paul Watzlawick, Jeffrey Zeig

Year:

2008

Publisher:

RBA Books

Necklace:

Read More