SURCAR EL MAR SIN QUE EL CIELO LO SEPA. LECCIONES SOBRE EL THE THERAPEUTIC CHANGE Y LAS LÓGICAS NO ORDINARIAS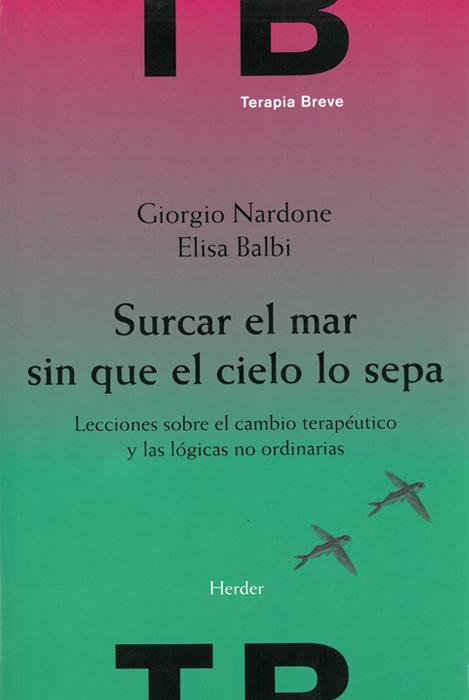 Author:
Giorgio Nardone, Elisa Balbi
Year:
2009
Publisher:
HerderEditorial
Necklace:
For the human being, being in contradiction is a rule, not an exception. How many times do our emotions push us to do something that is inconsistent with our habitual way of acting?
With the publicación hace más de 20 años de El arte del Cambio, Giorgio Nardone introducía la paradoja, la creencia y la contradicción -las lógicas no ordinarias- como elementos para seleccionar la estrategia más adecuada en la resolución de pathologías de type individual, group or empresarial.
Nardone part of that llama "operational conscience": it is a través de la solución as it is linked to the conocimiento of a problem. Surcar el mar sin que el cielo sepa es una obra essential, point de partida para cualquier desarrollo operative y teórico in el ámbito de la brief estratégica psychotherapy.
Italian

CROSSING THE SEA UNKNOWN OF THE SKY. LESSONS ON THERAPEUTIC CHANGE AND NON-ORDINARY LOGICS

Author:

Giorgio Nardone, Elisa Balbi

Year:

2008

Publisher:

Ponte alle Grazie

Necklace:

Short Therapy Essays

Read More

EN; English

THE LOGIC OF THERAPEUTIC CHANGE. FITTING STRATEGIES TO PATHOLOGIES

Author:

Giorgio Nardone, Elisa Balbi

Year:

2015

Publisher:

Karnac

Necklace:

Individual Psychotherapy Books

Read More

French

SILLONNER LA MER À L'INSU DU CIEL. LEÇONS SUR LE CHANGEMENT THÉRAPEUTIQUE ET LES LOGIQUES NON ORDINAIRES

Author:

Giorgio Nardone, Elisa Balbi

Year:

2012

Publisher:

Satas Editeur

Necklace:

The Germs

Read More