LOS ERRORES DE LAS MUJERES EN EL AMOR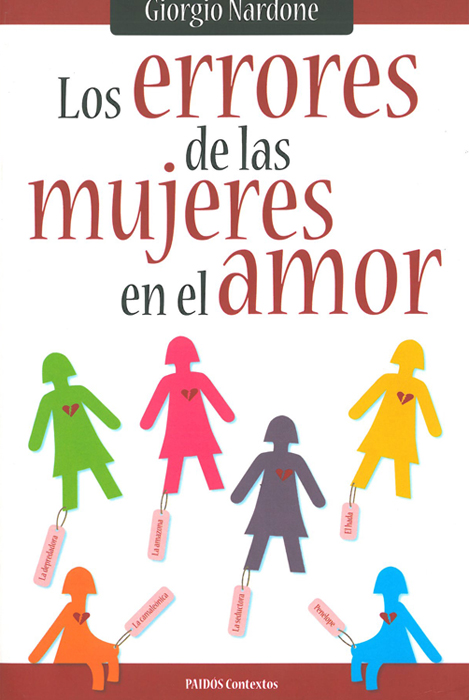 Author:
George Nardone
Year:
2011
Publisher:
Paidos
Necklace:
Nardone explica 17 guiones de relación basados ​​en mitos históricos y literarios. Además, cada guión está ejemplificado with a history of a real mujer starting from the most 15.000 pacientes a las that she has treated.
Qué es un guión de relación?
Son los papeles que las mujeres interpretan as much en pareja as consigo mismas. No son actitudes demasiado conscientes, se repiten sin darse cuenta, ya sea como respuesta al fracaso or a relación satisfactoria. At the final, las mujeres acaban siendo prisioneras de sus propias dinámicas de autoengaños.
What is the solution?
El primer paso es ser consciente a misma de qué guión se interpreta. A partir de aquí, the ideal es ir fluctuando de guión de a complementary way. The clave es comprender para actuar.
Por qué Giorgio Nardone traza esta clasificación?
The book is an ejercicio de observación desde fuera. Nardone is the Italian psychology by excelencia muy conocido por su aplicación de la therapy brief estratégica, discípulo de Paul Watzlawick. In his consultation he treated a multitud de mujeres, y así he shaped him with his history in the book. Además la óptica masculina resulta idónea para analizar las dinámicas, ya que resulta una visión desde fuera.
Los errores de las mujeres en el amor se deben a lo que Nardone calls "los guiones" que las mujeres "recitan" or representan ante la pareja y consigo mismas. Ninguno de estos guiones es patológico por sí mismo, but on aplicación de manera repetitiva los convierte en tales. Para lograr una buena relación amorosa, debemos ser conscientes de que estamos representando un papel; understand the guión que interpretamos… y change de personaje si nuestra manera de relacionarnos nos lleva al fracaso.
Cada uno de estos guiones must follow de una vivencia de una mujer que aplica este guión, showing how the aplicación (exagerada) de cada one de estos "guiones" contributed powerfully to the insatisfacción y to the amorous fracaso.
Italian

THE MISTAKES OF WOMEN (IN LOVE)

Author:

George Nardone

Year:

2010

Publisher:

Ponte alle Grazie

Necklace:

Short Therapy Essays

Read More