CROSSING THE SEA UNKNOWN OF THE SKY. LESSONS ON THERAPEUTIC CHANGE AND NON-ORDINARY LOGICS
lessons on therapeutic change and non-ordinary logics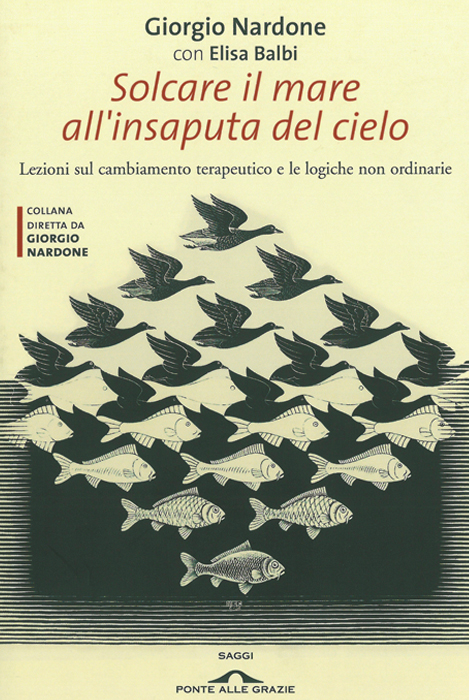 Author:
Giorgio Nardone, Elisa Balbi
Year:
2008
Publisher:
Ponte alle Grazie
Necklace:
Short Therapy Essays
The art of change was published in 1988, the text with which Giorgio Nardone introduced that twenty-year activity whose results and successes are collected and explained in this volume. Twenty years during which, through an increasingly conscious therapeutic use of paradox, belief and contradiction - that is, non-ordinary logics - Nardone has come to identify those constants that allow, case by case, to choose the most suitable strategy for address and resolve the most important pathologies on an individual, group or corporate scale.
A path in which we do not start from the linear abstractness of a theory to proceed to its applications, but work in the exact opposite way thanks to what Nardone defines as "operational awareness": it is through the solution that we arrive at knowledge of a problem . At the basis of this is the acceptance of reality as a change and of belief, contradiction and paradox as factual data always operating in mental processes and therefore in behavior; and it is precisely these data which, once recognized, suggest the most appropriate way to solve problems. The truth of a theory is deduced from its results; psychotherapy that works is good psychotherapy.
French

SILLONNER LA MER À L'INSU DU CIEL. LEÇONS SUR LE CHANGEMENT THÉRAPEUTIQUE ET LES LOGIQUES NON ORDINAIRES

Author:

Giorgio Nardone, Elisa Balbi

Year:

2012

Publisher:

Satas Editeur

Necklace:

The Germs

Read More

Spanish

SURCAR EL MAR SIN QUE EL CIELO LO SEPA. LECCIONES SOBRE EL THE THERAPEUTIC CHANGE Y LAS LÓGICAS NO ORDINARIAS

Author:

Giorgio Nardone, Elisa Balbi

Year:

2009

Publisher:

HerderEditorial

Necklace:

Read More

EN; English

THE LOGIC OF THERAPEUTIC CHANGE. FITTING STRATEGIES TO PATHOLOGIES

Author:

Giorgio Nardone, Elisa Balbi

Year:

2015

Publisher:

Karnac

Necklace:

Individual Psychotherapy Books

Read More