A BRIEF STRATEGIC THERAPY PROTOCOL FOR BINGE EATING DISORDER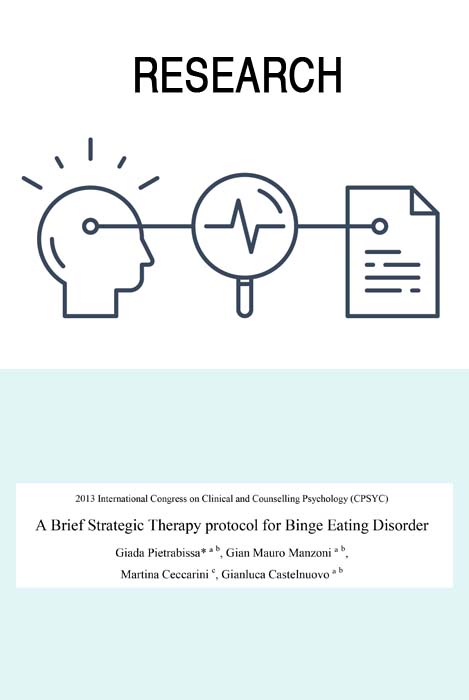 Autore:
Giada Pietrabissa et al.
Anno:
2013
Editore:
Elsevier
Collana:
A Brief Strategic Therapy Protocol for Binge Eating Disorder
Abstract
Background
Obesity and being overweight are often associated with Binge Eating Disorder (BED). Cognitive-Behavioral Therapy (CBT) has shown solid results in reducing binge eating, but it does not traditionally encourage weight loss. Since Brief Strategic Therapy (BST) has shown to be effective in treating obese people suffering from Binge Eating Disorder (BED), our objective is to compare the BST protocol as an alternative and/or integrative treatment to the traditional Cognitive-Behavioral Therapy, for inpatient and telephone-based outpatient treatment.
Method
A two arm randomized controlled clinical trial including 6, 12 and 18 months post-treatment follow up is proposed. 60 participants meeting criteria for obesity and BED will be recruited from a single clinical center (Saint Joseph Hospital – Istituto Auxologico Italiano IRCCS) and randomly allocated in the CBT or BST group. The primary end point is the global change of patients' progress score (Outcome Questionnaire – OQ 45.2), while the secondary outcome measures are patients' weekly binge episodes and weight loss. Data will be collected before and after hospitalization (after 1 month) as well as at 6, 12 and 18 months from the end of the in-hospital treatment. Data at follow-up time points will be collected through tele- sessions.

Conclusion
The present study represents the first randomized controlled trial aimed at comparing the effectiveness of BST with the gold standard CBT. These findings will advance current knowledge in both treatment for BED and telecommunication providing distant clinical healthcare.
Read the full article: https://www.sciencedirect.com/science/article/pii/S1877042814000068