THE STRATOB STUDY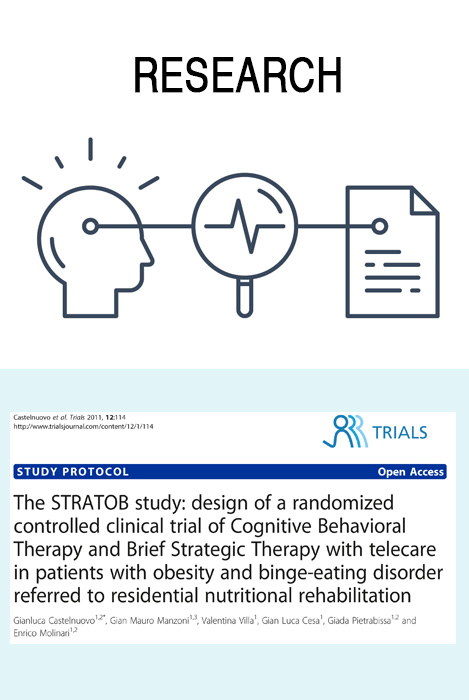 Autore:
Gianluca Castelnuovo et al.
Anno:
2011
Editore:
Springer
Collana:
The STRATOB study: design of a randomized controlled clinical trial of Cognitive Behavioral Therapy and Brief Strategic Therapy with telecare in patients with obesity and binge-eating disorder referred to residential nutritional rehabilitation
Abstract
Background: Overweight and obesity are linked with Binge Eating Disorder (BED). Effective interventions to significantly reduce weight, maintain weight loss and manage associated pathologies like BED are tipically combined treatment options (dietetic, nutritional, physical, behavioral, cognitive-behavioral, pharmacological, surgical). Significant difficulties with regard to availability, costs, treatment adherence and long-term efficacy are present.
Particularly Cognitive Behavioral Therapy (CBT) is the therapeutic approach indicated both in in-patient and in out-patient settings for BED. In recent years systemic and systemic-strategic psychotherapies have been implemented to treat patients with obesity and BED involved in familiar problems. Particularly a brief protocol for the systemic-strategic treatment of BED, using overall the strategic dialogue, has been recently developed. Moreover telemedicine, a new promising low cost method, has been used for obesity with BED in out-patient settings in order to avoid relapse after the in-patient step of treatment and to keep on a continuity of care with the involvement of the same clinical in-patient team.
Methods: The comparison between CBT and Brief Strategic Therapy (BST) will be assessed in a two-arm randomized controlled clinical trial. Due to the novelty of the application of BST in BED treatment (no other RCTs including BST have been carried out), a pilot study will be carried out before conducting a large scale randomized controlled clinical trial (RCT). Both CBT and BST group will follow an in-hospital treatment (diet, physical activity, dietitian counseling, 8 psychological sessions) plus 8 out-patient telephone-based sessions of psychological support and monitoring with the same in-patient psychotherapists. Primary outcome measure of the randomized trial will be the change in the Global Index of the Outcome Questionnaire (OQ-45.2). Secondary outcome measures will be the percentage of BED patients remitted considering the number of weekly binge episodes and the weight loss. Data will be collected at baseline, at discharge from the hospital (c.a. 1 month after) and after 6-12-24 months from the end of the in-hospital treatment. Data at follow-up time points will be collected through tele-sessions.
Discussion: The STRATOB (Systemic and STRATegic psychotherapy for OBesity), a comprehensive two-phase stepped down program enhanced by telepsychology for the medium-term treatment of obese people with BED seeking intervention for weight loss, will shed light about the comparison of the effectiveness of the BST with the gold standard CBT and about the continuity of care at home using a low-level of telecare (mobile phones).
Trial registration: ClinicalTrials.gov Identifier: NCT01096251
Read the full article: https://trialsjournal.biomedcentral.com/articles/10.1186/1745-6215-12-114