THE BRIEF STRATEGIC TREATMENT OF CARDIOPHOBIA: A CLINICAL CASE STUDY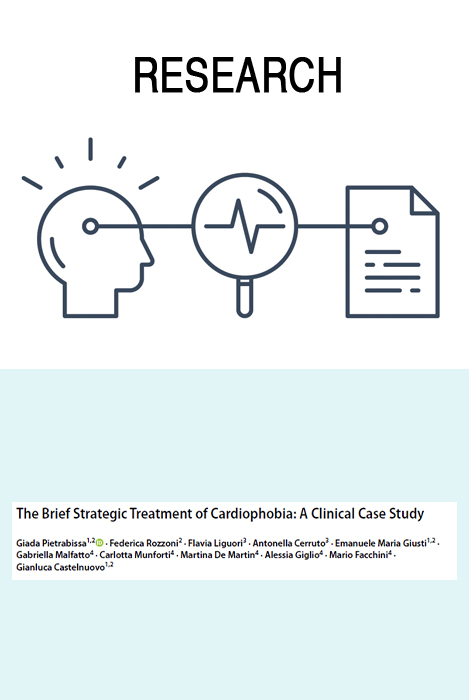 Autore:
Giada Pietrabissa et al.
Anno:
2020
Editore:
Springer
Collana:
The Brief Strategic Treatment of Cardiophobia: A Clinical Case Study
Abstract
Many individuals presenting to medical settings with heart-related symptoms for which no medical explanation is found might suffer from cardiophobia, but this condition is still poorly identified and addressed. This article presents a case of cardiophobia treated in an outpatient cardiac rehabilitation unit and, for the first time, describes the application of brief strategic therapy for the treatment of this condition. In the case reported, the first therapeutic encounter and the key elements of the strategic approach are described in detail with the aim to explain how brief strategic therapy works and how it can be used to identify and address cardiophobia-related behaviors. A 64-year-old male presented to cardiac rehabilitation reporting intense anxiety-provoking heart palpitations, and believing he was at risk of dying from a heart attack. After 3 sessions, an overall improvement in heart-related bodily sensations followed a decrease in the patient's continuous checking of his heartbeat and seeking reassurance—factors that were largely responsible for the persistence of the problem. Moreover, quantitative evaluation showed increased scores of mood state at the end of treatment. This improvement persisted at the 18-month follow-up. This case is an interesting example of how brief strategic therapy can contribute to the development of a new conceptual model for the diagnosis and treatment of cardiophobia. Still, more systematic research in the field is needed to prove the efficacy and effectiveness of this therapeutic approach on symptoms of heart-focused anxiety.
Read the full article: https://link.springer.com/article/10.1007/s10879-020-09479-z