THE LOGIC OF THERAPEUTIC CHANGE. FITTING STRATEGIES TO PATHOLOGIES
Fitting strategies to pathologies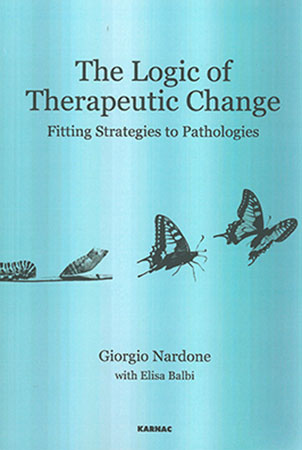 Autore:
Giorgio Nardone, Elisa Balbi
Anno:
2015
Editore:
Karnac
Collana:
Individual Psychotherapy Books
In 1993 Giorgio Nardone and Paul Watzlawick published The Art of Change: Strategic Therapy and Hypnotherapy Without Trance, a revolutionary work that introduced a series of effective clinical strategies to create therapeutic change, even in seemingly impossible cases. In his new book, Giorgio Nardone performs another quantum leap, leading his readers to a more operative knowledge of the precise logic of therapeutic change.
Most intimidating mental disorders are based on perceptions of reality that when using an ordinary 'common-sense' logic as our reading lens, look as if they are irrational, bizarre, illogical and therefore hard to understand and manage. Yet if we can follow the patient's own logic, which is definitely a non-ordinary logic, we can come to recognise the 'rules of the game', a game that we can actually 'play and win'.
In his exciting new approach, Professor Nardone shows that by understanding the non-ordinary logic of a problem (which is often based on the logic of belief, paradox and contradiction), we can come to choose the best strategies to bring about effective change.
Reviews and Endorsements:
'On the level of theory, as well as on the level of practice, the creativity of Giorgio Nardone allows him to be the best representative of the strategic approach in psychotherapy today.'
– Mony Elkaïm, MD, Honorary Professor, Free University of Brussels
'In this engaging and thoughtful exposition, readers will learn how to use strategic thinking and non-ordinary logic to improve clinician outcomes. Invest in these principles and the interests of clients will quickly and decisively accrue.'
– Jeffrey K. Zeig, PhD, Director and Founder, The Milton H. Erickson Foundation
'It is rare to find a book that makes a new contribution to effective therapy. The Logic of Therapeutic Change is such a book, offering a refreshing and needed reconsideration of how to do therapy effectively. Founded on decades of research from Gregory Bateson's Palo Alto Group and the Mental Research Institute (MRI), anyone familiar with Giorgio Nardone's earlier work can see how this volume solidifies his vital place in a body of empirical literature that has emerged on how to promote effective change with people caught up in seemingly intransigent difficulties in living.'
– Wendel A. Ray, PhD, Spkyer Endowed Chair of Marriage and Family Therapy, University of Louisiana – Monroe, and Former Director and Senior Research Fellow, MRI, Palo Alto, California
Italiano

SOLCARE IL MARE ALL'INSAPUTA DEL CIELO. LEZIONI SUL CAMBIAMENTO TERAPEUTICO E LE LOGICHE NON ORDINARIE

Autore:

Giorgio Nardone, Elisa Balbi

Anno:

2008

Editore:

Ponte alle Grazie

Collana:

Saggi di Terapia Breve

Leggi Tutto

Francese

SILLONNER LA MER À L'INSU DU CIEL. LEÇONS SUR LE CHANGEMENT THÉRAPEUTIQUE ET LES LOGIQUES NON ORDINAIRES

Autore:

Giorgio Nardone, Elisa Balbi

Anno:

2012

Editore:

Satas Editeur

Collana:

Le Germe

Leggi Tutto

Spagnolo

SURCAR EL MAR SIN QUE EL CIELO LO SEPA. LECCIONES SOBRE EL CAMBIO TERAPÉUTICO Y LAS LÓGICAS NO ORDINARIAS

Autore:

Giorgio Nardone, Elisa Balbi

Anno:

2009

Editore:

Herder Editorial

Collana:

Leggi Tutto