LOOKING INSIDE MAKES YOU BLIND. WRITINGS CHOSEN WITH FIVE UNPUBLISHED ESSAYS
Biography of Paul Watzlawick's Thought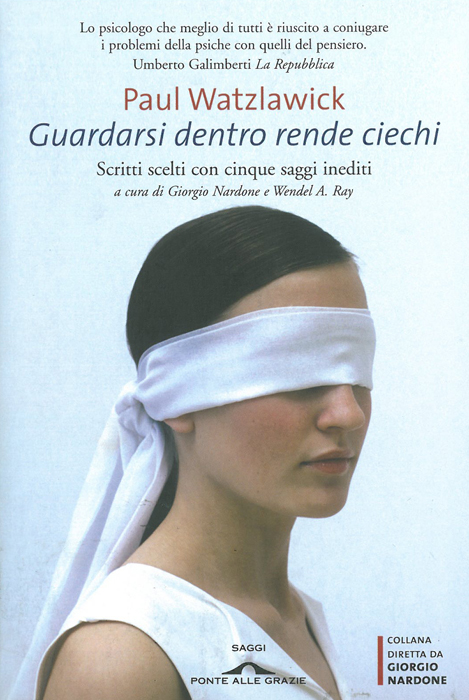 Author:
Wendel A. Ray, Giorgio Nardone
Year:
2007
Publisher:
Get all Grazie
Necklace:
Brief therapy essays
This "biography of thought" by Paul Watzlawick is his last and precious legacy, intended for those who have long known his approach to the solution of human problems and also to all those "free spirits" who simply seek to improve their lives.
Countercurrent and nonconformist, among the founders of the Palo Alto School he was one of the most important figures in contemporary psychology and psychotherapy and one of the few authors able to talk about complex issues in a simple and linear way.
The theories of the pragmatics of communication, the strategies of brief therapy (problem solving, interactional perspective, psychotherapy of "as if") and the choice of radical constructivism tend precisely to this. Anything that appears unchangeable can be changed.
But the turning point does not originate from a path of introspection that discovers the causes of a problem in the past. Rather, it is about working on disturbances in the present using language as a means of suggestion and persuasion to change. By exploiting the enormous potential of human communication it is possible to give confidence to those in difficulty. Once the labels that forever condemn a patient to her illness are abolished, it will be possible to build a better reality.
English

INSIGHT MAY CAUSE BLINDNESS AND OTHER ESSAYS. EDITED BY RAY W., NARDONE G.

Author:

Wendel A. Ray, Giorgio Nardone

Year:

2009

Publisher:

Zeig, Tucker & Theisen

Necklace:

Read More